A-Laiturit dock is durable and long-lasting. However, parts of the dock may wear out over the years, and it is a good idea to call the knowledgeable and experienced A-Laiturit maintenance team! 
Maintenance and replacement of dock chains
The most common type of dock maintenance work involves anchor chains: the chain is broken or detached from the dock. You should always check your own dock moorings in the spring and autumn. The chains probably need maintenance, if the dock is skewed or has started to move more than before.
Typical dock maintenance works:
Dock chain maintenance: inspection, tightening, fastening and replacement
Dock adjustment
Dock access bridge repair
Buoy chain replacement
Buoy transfer
Re-attachment of the bollards
Adding anchor weights
General dock inspection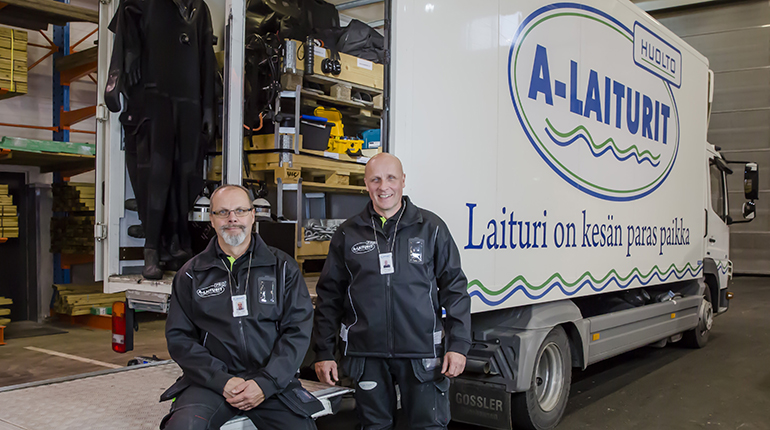 Easy maintenance order with photos
The most convenient way to order maintenance is to take a few photos of your dock and send them to us at info@a-laiturit.fi. We estimate the maintenance needed based on the pictures and make an offer.
Our service team can handle the repair work independently, so you do not have to be on-site at the time of the repair.
The A-Laiturit maintenance team serves within a 100-kilometer radius of our Raisio factory. We carry out maintenance work during molten water, i.e. almost all year round.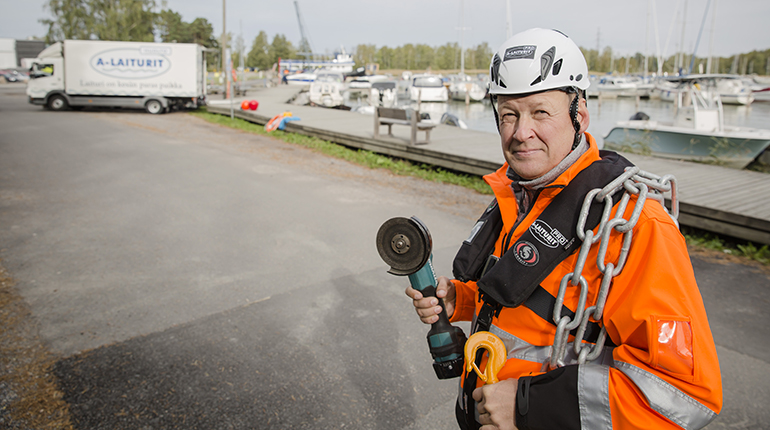 Port maintenance
The A-Laiturit knowledgeable maintenance team will also take care of the entire port maintenance: condition mapping, reporting and repairs. You save time and expenses by letting professionals do the job. At the same time, the risks associated with repair and maintenance work are reduced and your own maintenance personnel can concentrate on other work.
Read more about the port maintenance in the professionals' own a-laituritpro.fi online service (in Finnish). Use of the service requires registration. You can also ask for additional information from our Sales Assistant Maarit Haapamäki (tel. +358 44 988 5887 or maarit.haapamaki@a-laiturit.fi)
Order maintenance or ask for more information!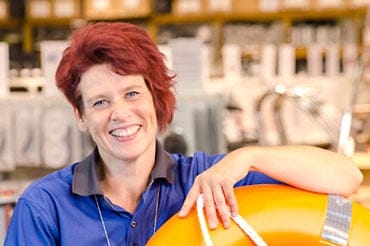 Maarit Haapamäki
Sales Assistant