Our dock experts plan and build the dock of your dreams for you.
First we figure out the purpose of the dock: a boat dock, a swimming dock or a leisure dock? After that we figure out the conditions such as the location of the beach, wind and wave conditions, water depth and ice conditions.
Based on these we decide the dock size, shape, sturdiness and the needed accesories. The objective is always a durable and long-lived dock that survives the winter well and needs as little maintenance as possible.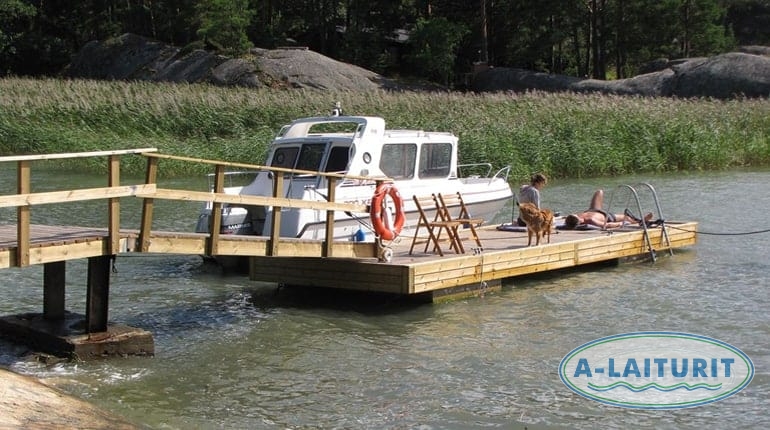 Floating docks
In the floating docks collection you can find concrete pontoon docks and plastic pontoon docks, and they are available in many different sizes.
Heavy duty pontoon docks with concrete frames are suitable for demanding conditions and they endure in water around the year. They are very stable and safe docks that are suitable for mooring boats, sunbathing, swimming trips and even dock parties.
The frame and deck of concrete pontoon docks are made out of concrete or finished wood. They are stable and terrace-like leisure and swimming decks and suitable for mooring and loading boats. The docks endure in water around the year.
Plastic pontoon docks and plastic tube pontoon docks are suitable for low-water beaches and sheltered conditions. They are docks for swimming and leisure and a small or medium size boat can be moored to them. The deck height of the plastic pontoons is low enough for small boats and smaller swimmers. In sheltered conditions plastic pontoon docks endure in water around the year.
All of our floating dock models can be attached one after another, side by side or in a L or T shape. This ensures that the best possible solution can be implemented for any beach and purpose.
We also have complete do-it-yourself dock packages in our collection.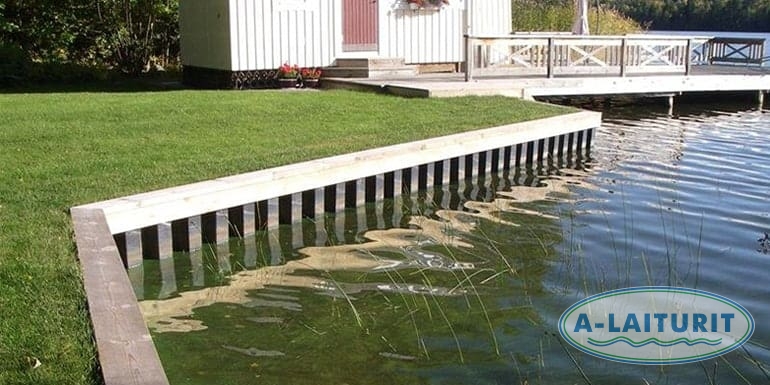 Solid docks
If the beach is not suitable for a floating dock, we may make it suitable by adjusting the shoreline or by earthmoving. The sheet pile dock is built of vinyl posts. Due to the strong frame bars that create the basis for the dock, the fixed dock is sturdy and safe. We have a solution for any beach!
Reliable delivery and easy installment
In addition to the durable and easy-to-install products, other strengths that our customers respect are the precise and well finished deliveries.
Our delivery service takes care of transporting the dock from the factory to the beach. If the beach can't be reached by car, the dock will be delivered by water. Our do-it-yourself dock deliveries also include a free trailer for rent.
A-Laiturit installments are taken care of by our competent experts from our broad partner network.
Contact us and let us help you with designing a tailor-made dock for you!